A Book Review
Succulent Container Gardens
By Debra Lee Baldwin
With their colorful leaves, sculptural shapes, and simple care, succulents are beautiful yet forgiving plants for pots. If grown in containers, these dry-climate jewels — which include but are not limited to cacti — can be brought indoors in winter and so can thrive anywhere in the world.
In this inspiring compendium, the popular author of Designing with Succulents provides everything beginners and experienced gardeners need to know to create stunning container displays of exceptionally waterwise plants. The extensive palette includes delicate sedums, frilly echeverias, cascading senecios, edgy agaves, and fat-trunked beaucarneas, to name just a few. Easy-to-follow, expert tips explain soil mixes, overwintering, propagation, and more.
Define your individual style as you effectively combine patterns, colors, textures, and forms. Discover how top designers interpret the dramatic options, in ideas ranging from exquisite plant-and-pot combinations to extraordinary topiaries and bonsai. Expand your repertoire with plump-leaved plants that resemble pebbles, stars, and undersea creatures. Short on space? Create vertical gardens and hanging baskets, and use daisylike rosettes in wall displays.
Each of the more than 300 photographs offers an inspiring idea. A-to-Z descriptions cover 350 of the best succulents, plus companion plants. Whether your goal is a gorgeous potted garden for a sunny windowsill or outdoor living area — or simply making great gifts — this is a comprehensive primer for creating vibrant, living works of art.
An excerpt from the book,
Potting Mixes: What the Experts Use
It seems every succulent collector or nursery owner has a preferred potting mix. Some examples:
A former CSSA president in New Jersey combines three parts commercial potting mix that is high in bark or horticultural coir with two parts pumice and one part calcined clay.
A specialist in succulent bonsai recommends a mix of one part compost, one part coir, one part loam, and four parts pumice or perlite.
A designer of succulent topiaries and wreaths uses no soil but rather inserts cuttings into tightly packed sphagnum moss.
A kalanchoe collector's preferred mix is 50 percent pumice, 25 percent loam, and 25 percent decomposed granite sand.
A haworthia grower mixes equal parts grit or plaster sand, pumice, and peat-free commercial potting soil.
A collector who owns a wide range of succulents says it does not matter what base is used, so long as one-third to one-half of the final mix is pumice.
An article in the CSSA newsletter recommends that at least half the mix consist of "an air-trapping substance" such as perlite, pumice, or calcined clay.
A lithops collector's mix is "more white than brown": one third commercial potting soil with twigs removed, and two-thirds perlite or pumice. He also may add decomposed granite "to help toughen the plants."
A nursery owner who sells at shows prefers an easy-to-rewet mix of half-and-half coir and perlite.
A cactus and succulent nursery in New Mexico recommends three parts soilless potting mix, one part coarse sand, and one part volcanic scoria, perlite, crushed gravel, or crushed limestone.
A designer at a Denver nursery mixes half-and-half potting soil and poultry grit (crushed granite).
A cactus and succulent show judge, emphasizing the importance of oxygen for roots, recommends not adding vermiculite, because it compacts.
Debra Lee Baldwin
Debra Lee Baldwin is an award-winning writer and editor based in Southern California. She has written hundreds of feature articles and columns about architecture, homes, gardens, landscaping and interior design, and people who have made significant contributions to our culture.
Award-winning garden photojournalist Debra Lee Baldwin wrote Designing with Succulents in addition to Succulent Container Gardens. She is a regular contributor to the Los Angeles Times and major gardening magazines. Debra's specialty is showing how top designers use these architectural, waterwise, low-maintenance plants in a wide variety of creative, eye-catching applications.
Debra has presented at the Huntington Botanical Gardens, the Denver Botanic Garden, and major flower shows in Philadelphia, Seattle, and San Francisco, to name a few of many prestigious venues. Her own garden near San Diego has been featured in Sunset, Better Homes & Gardens, the San Diego Union-Tribune, and other publications.
Succulents, which store water in fleshy leaves and stems to survive periods of drought, offer spectacular blooms and foliage of every color — including cherry red, sky blue, and purple-black. In her books and presentations, Debra introduces various types of succulents, discusses their care, describes what makes each interesting and unique, and explains how to create lovely, low-water gardens and containers. With Debra's expert guidance, you'll soon discover how to use these easy-care, sculptural plants to beautifully express your personal style.
Succulent Container Gardens
By Debra Lee Baldwin
Timber Press
Copyright 2010
Hardcover, 248 pages, $29.95
---
The Conscientious Gardener: Cultivating a Garden Ethic
By Sarah Hayden Reichard
"I believe that a garden ethic reflects the conscientiousness of those who care for land by nurturing gardens," author Sarah Hayden Reichard writes in the Introduction to this book. She continues,  "Gardeners revel in the beauty of a flower, the wonders of pollination turning that flower into a lovely or delicious fruit, the snap of a fresh pea pod picked from the vine and eaten on the spot. They are connected to their plot by a love of the living. But the garden ethic also arises from an increasing awareness that, over time, practices and products have crept into our craft that decrease its long-term sustainability. As we have moved from an agrarian society to one based in urban and suburban landscapes, we have lost contact with habits common to our ancestors — such as using naturally decomposing materials rather than synthetic fertilizers to improve soil fertility or nurturing predatory insects and birds instead of deploying the latest, greatest, also usually synthetic products to control pests. A garden ethic gives us the information and structure to return to those less harmful procedures, helping us to view the garden, like the land, as a fully functioning ecosystem – and to incorporate the awareness that its impacts extend far beyond its footprint. Invasive species that escape into wildlands, the mining and transportation of materials such as peat from regions thousands of miles away, and the use of inefficient engines in garden equipment all contribute to the loss of biological diversity beyond our garden gates."
This book is divided into eight chapters that explore topics important to both gardens and conservation. Fertile, porous soil (The Skin of the Earth) and clean water, our most precious resource, are critical to our existence, but garden practices affect their health and sustainability; these natural resources are explored in the first two chapters. Chapters 3 and 4 guide plant selection. What are native plants, and should you use them? When are they appropriate, and when is a nonnative  a better choice? How can you determine which nonnative species will invade, and why are people so concerned about them in gardens when the problems they cause occur in wildlands? The plants you select, as well as other aspects of your garden, such as its structure and water features, can attract desirable wildlife and repel undesirable animals, topics explored in chapter 5. However, gardens also invite unwanted plant, insect, and other species, and how to safely control and even prevent their presence is the subject of chapter 6.  The final two chapters, on global warming and reducing waste, look at the big picture as a spur to change. Gardeners can help prevent climate change through simple measures such as reducing soil tillage, switching to push mowers, growing some of our own food, and planting trees to shade the house in the summer. We can also help shrink landfills by composting, not buying overpackaged goods, and either reusing or freecycling garden items.
The book ends with an appendix summarizing more than twenty years of the author's research on garden plants that can become invasive, with a table of the species worldwide, their impacts, and where they are known to be problems.
Sarah has set a lighthearted tone throughout and thankfully doesn't get all preachy, it's engaging reading and often quite easy to embrace her sustainability messages. She has a nifty list of conscientious choices list in the Epilogue that is a full of excellent suggestions such as, "I encourage  garden centers to purchase plants grown in decompostable pots, or I do not trade plants with other gardeners if I know the plants are invasive, or I slow the movement of water so it is absorbed into the soil by using plant layers, bioswales, rain gardens, green roofs, or other methods.
Sarah Hayden Reichard is Professor of Conservation Biology and Adjunct Professor of Landscape Architecture at the University of Washington. She is also Curator of the Hyde Herbarium at the University of Washington and heads the Rare Plant Care and Conservation Program, both at the University of Washington Botanic Gardens. She is coeditor of Invasive Species in the Pacific Northwest.
The Conscientious Gardener: Cultivating a Garden Ethic
By Sarah Hayden Reichard
University of California Press
Copyright 2011
Hardcover, 254 pages, $27.50
---
Texas Peach Handbook
By Jim Kamas and Larry Stein
An up-to-date guide for commercial and residential Texas peach growers . . .
With an estimated one million trees producing almost fifty million pounds of fruit per year, Texas is a leading producer of peaches, and several popular seasonal festivals highlight the widespread enjoyment of and interest in this delicious, versatile fruit. In addition, a recent rise of interest in edible gardens and home fruit production has led more people to think about planting a peach tree in the yard — or paying closer attention to the one they already have.
Jim Kamas and Larry Stein, drawing from their many years of experience and the best current research, provide authoritative advice for those who want to improve peach production, whether in a large commercial orchard or on a single tree in the back yard. With discussions ranging from site selection to marketing ideas, Texas Peach Handbook covers the basics of peach cultivation — planting, pruning, fertilizing, watering, protecting, thinning, harvesting — and gives both instruction on disease and insect control and advice on the financial aspects of the peach business. The authors also direct readers to other, more detailed or technical sources, for those who want to learn more about a given topic.
For its complete and useful information and expert guidance, this how-to handbook will prove indispensable for anyone who grows, or wants to grow, peaches either commercially or in the backyard.
A valuable chapter on cultivar and rootstock recommendations for Texas peach growers is essential reading for anyone growing peaches – once the winter chilling hours have been determined.   Lists and descriptions of cling, semi-cling and freestone varieties will help fine tune the selection process.
Jim Kamas, based in Fredericksburg, is assistant professor and extension horticulturist in the department of horticultural sciences, Texas A&M University, and the Texas AgriLife Extension Service. He was formerly a research associate in the A&M peach breeding program, has taught undergraduate fruit production classes at Texas A&M University and was a commercial peach grower for ten years in Austin County, Texas.
Larry Stein is professor and extension horticulturist in the department of horticultural sciences, Texas A&M University, and the Texas AgriLife Extension Service. He worked at the Texas AgriLife Research and Extension Center in Stephenville for seven years before moving to Uvalde.
Texas Peach Handbook
By Jim Kamas and Larry Stein
Texas A&M University Press
Copyright 2011
Flexbound, 147 pages, $24.95
---
Heirloom Bulbs for Today
By Chris Wiesinger and Cherie Foster Colburn
For those tired of high-maintenance and short-lived plants, Chris Wiesinger, "The Bulb Hunter" shares his knowledge of versatile, sustainable, and low-maintenance bulbs. Heirloom Bulbs for Today introduces the best of the bulb world, addressing common questions and explaining the characteristics, history and ways to use each bulb, whether in the landscape or the home. Chris teams with landscape designer and award winning author Cherie Foster Colburn (Our Shadow Garden) to offer an innovative look at old-fashioned flower bulbs. While most garden guides simply tell the culture of the plant, Heirloom Bulbs for Today also tells the culture of the people who grew the plant, unearthing each bulb's past and those who loved it.
Gorgeous botanical illustrations and vivid photographs by South African artists Loela Barry and Johan Kritzinger add rich flavor to featured bulbs found flowering with abandon in historic gardens, homes, and cemeteries, transporting readers on their own bulb hunt. With undeniable Southern charm, Wiesinger describes the adventures he encounters while collecting these old favorites, dubbed the "comfort food" of the plant world.
Heirloom Bulbs for Today introduces new gardeners to the best of the bulb world and shares information that will delight even the most seasoned gardeners. Hunting bulbs is hard work, and Chris' search for these hardy favorites – the comfort food of the plant world – take him into every corner of the world to find these treasures and the stories behind each one.
Detailed botanical portraits and Chris' intimate secrets of how to know and grow his "ladies" give readers every tool they need to be successful.
Vivid photographs of the bulbs flowering in historic gardens, homes, and cemeteries transport readers on their own bulb hunt throughout the country.
With Cherie's sample landscape plan using these carefree plants, Loela takes readers through every season of the year to see what the garden will look like in bloom.
Easy to follow instructions on forcing bulbs inside and step-by-step photos to create your own floral art lets everyone become a bulb gardener, even if you don't have a yard!
An excerpt from the book,
That first rescue hunt took me to a little German community less than an hour away from Texas A&M, where I went to school. I'd heard this used to be the third largest town in Texas, but there wasn't much there anymore. In the early 1900s the area was littered with cotton plantations. The town's success rode on the back of the Southern Pacific rail line that hauled cotton to the East coast. It was known for its beautiful Victorian homes built during the cotton era. Each fall, the crimson blooms of the oxblood lily, Rhodophiala bifida, emerged around the oak trees and next to these stately homes. When I began my search of the oxblood lily, also called the schoolhouse lily because of the timing of its bloom at the start of the school year, my mentor and friend, Dr. Bill Welch, who had done extensive research on the heirloom plants found in Texas, shared his knowledge with me. Although many people believe the oxblood lily to be native to Central Texas, it was actually an introduced plant from Argentina brought by colonist and German-born botanist/farmer Peter Heinrich Oberwetter. Upon Oberwetter's arrival to Texas in the late1840s, he started a collection of native rain lilies and began sending them out to friends all over the world. When the Civil War broke out, he sided with the Union, probably because political upheaval had sent him packing from Germany in the first place. Like many other German colonists, Oberwetter fled to Mexico to escape persecution. Most likely in Mexico he first saw a version of the oxblood lily that became one of his passions. Returning to Texas after the war, he brought with him a number of different bulbs, but the oxblood lily is the plant most commonly associated with his legacy as a plantsman.
Called "The Bulb Hunter" by the New York Times, Chris Wiesinger is known for his relentless pursuit of heirloom bulbs and his desire to understand their history. Chris earned a degree in horticulture education at Texas A&M University and is owner of The Southern Bulb Company.
Cherie Foster Colburn, who also attended Texas A&M and Texas Woman's University, is an award-winning garden writer and children's book author (Our Shadow Garden, illustrated by children in treatment at M. D. Anderson Cancer Center). As a professional landscape designer and owner of Nature's Tapestry, Cherie specializes in low-maintenance residential and commercial plans.
Artists Loela Barry and Johan Kritzinger, South African natives, co-own JoLoe Art. Loela is degreed in landscape architecture and certified in floral design, both from Texas A&M University. Johan is a registered professional chemical engineer and photographer. Both Loela and Johan are artists in several mediums, including their own unique version they call "chemical art."
Heirloom Bulbs for Today
By Chris Wiesinger and Cherie Foster Colburn
Bright Sky Press
Copyright 2010
Hardcover, 180 pages, $34.95
---
Heirloom Gardening in the South: Yesterday's Plants for Today's Gardens
By William C. Welch & Greg Grant
A new edition of the classic work, The Southern Heirloom Garden adds 300 more pages of valuable information about heirloom plants belong in Southern gardens. Tough and adapted, tried and true, pretty and useful, these living antiques – passed through countless generations – represent the foundation of traditional gardens as we know them today.
Heirloom Gardening in the South is a comprehensive resource that also offers a captivating, personal encounter with two dedicated and passionate gardeners whose love of heritage gardening infuses the work from beginning to end. Anyone who wants to know how to find and grow time-honored and pass-along plants or wants to create and nurture a traditional garden is sure to find this a must-have addition to their home gardening library.
A book excerpt:
A Garden in the Wilderness, German Influence by Greg Grant
With the exception of Missouri, no Southern state received such a massive influx of German immigrants as did Texas. Ship after ship filled with Germans seeking their "new Germany" arrived into the ports of Galveston, Indianola, and New Orleans. In 1846, about eight thousand arrived in Galveston alone. Because the immigrants tended to settle together, the German influence was often far more pronounced, or even overwhelming, locally. According to German Seed in Texas Soil, the populations of Galveston, Houston, and San Antonio during the 1850s were roughly one-third German.
As new arrivals, the Germans gardened to feed themselves. In addition to what they could grow, the immigrants harvested a great many foods from the wild, including wild grapes, plums, blackberries, and anything else deemed edible. As one German settler put it, "We ate what we liked and we ate what we didn't like."
Like most early settlers, the Germans grew such edible crops as sweet potatoes, Irish potatoes, corn and cabbage. It doesn't appear that the Germans were responsible for introducing any new types of vegetables into Texas, but they can be credited with new uses for existing crops. It was the German influence that led to an increased consumption of white, or "German" potatoes, and the use of cabbage for kraut, tobacco for cigars, and wheat for "light bread" and flour tortillas.
At least in their own estimation, the German immigrants were generally better gardeners than their Anglo neighbors. In 1845, Prince Carl of Solms-Braunfels, the first commissioner-general of the Society for the Protection of German Immigrants in Texas, pointed out, "All of the garden vegetables grow abundantly if one takes the pains to plant them. The American is usually too lazy to prepare a garden. Rather than go to such trouble, he prefers to live on salted meat, bacon, corn, and coffee and to deny himself any greenery either for nourishment or for beautifying the home. However, the German settlements are distinguished by their beautiful gardens, vegetables, and flowers."
Apparently, Germans were among the first settlers in Texas to adorn their surroundings with flowers and ornamental plantings. Traveling across Texas in 1854, Frederick Law Olmstead described his accommodations for a night he spent in the German community of New Braunfels: "A little room it proved, with blue walls again, and oak furniture … two large windows with curtains, and evergreen roses trained over them on the outside – not a pane of glass missing or broken – the first sleeping room we have had in Texas where this was the case."
What's Inside the book:
Essays on naturalizing daffodils, slips and starts, and growing fruit;
An heirloom plant encyclopedia;
Extensive plant lists (bulbs, cemetery plants, etc.)
The latest on the creation of two of the authors' personal gardens
Building on the popularity of the original edition, this lively, entertaining, and informative new book from two proven experts will be enthusiastically welcomed by gardeners and horticulturists throughout Texas and the South.
Patty Leander, Travis County Master Garden and Texas Gardener contributing writer says about Heirloom Gardening in the South, "Combining world history, abundant horticultural wisdom and two lifetimes of experience, Bill and Greg bring tribute, reverence, and authentic meaning to the term 'heirloom'. When I read the section on German influences I couldn't help but think of my own grandfather of German heritage, a farmer who loved coaxing beauty and bounty from his land in Alamance County, North Carolina. In today's hyper-paced world, we need such gentle reminders of the customs, cultures, and plants that have shaped and contributed to our rich Southern heritage. Thank heaven for Bill Welch and Greg Grant, and for their dedication to Texas and the South."
William C. Welch is professor and AgriLife Extension landscape horticulturist in the Texas A&M System. He has many years of experience with garden clubs and nursery organizations and is a regular contributor to Southern Living Magazine. On the board of directors of the Southern Garden History Society, he is also an honorary member of the Garden Club of America, which awarded him its distinguished service medal in 2008.
Greg Grant is the Stephen F. Austin Gardens outreach research associate at Stephen F. Austin State University in Nacogdoches. A former AgriLife Extension agent and lecturer in horticulture at SFA, Grant has traveled extensively to gardens in the U.S. and Europe and is a popular speaker on garden topics throughout the South. He is a regular contributor to Neil Sperry's Gardens and writes the column, "In Greg's Garden," for Texas Gardener.
Heirloom Gardening in the South
By William C. Welch & Greg Grant
Texas A&M University Press
Copyright 2011
Flexbound, 535 pages, $29.95
---
Slow Gardening: A No-Stress Philosophy for all Senses and Seasons
By Felder Rushing
Thanks to the resurgence of home and community gardening, more and more people are discovering the pleasure of biting into a sun-ripened tomato picked right off the vine, the earthy smell of freshly turned soil, and the cheerful harbingers of spring such as daffodils, irises, and pansies. But they are also discovering that gardening can be a heck of a lot of work. So what happens when keeping up with the weeds turns into a full-time job? What do you do when gardening becomes stressful? Slow Gardening to the rescue! Inspired by Slow Food, an international movement that promotes local food systems and biological and cultural diversity, the slow-gardening approach can help us all appreciate and enjoy our gardens more, year in and year out.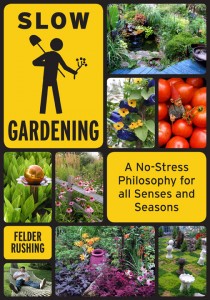 Doing something slowly means savoring what you do. However, in just a few generations, we've gone from eating mostly home-cooked food and gardening with mostly local resources to a fast-food culture and cookie-cutter "mow-and-blow" landscapes filled with unproductive and high-maintenance plants from afar. Sure, we've shed a lot of the menial labor it takes to put both food on the table and flowers in the garden, but at  what cost to the Earth, and our own bodies?
Felder Rushing, a truly one-of-a-kind garden expert, offers this practical yet philosophical approach to gardening – one that will help you slow down, take stock of your yard, and follow your own creative whimsy in the garden. Slow Gardening will inspire you to slip into the rhythm of the seasons, take it easy, and get more enjoyment out of your garden, all at the same time.
An excerpt from Slow Gardening
Some Slow Gardening Tenets:
People often get bogged down with the details of life, seeing everything as a confusing morass of intricacies –like a ball of rubber bands.
This book attempts to "de-construct" gardening into simple acts that are in themselves only tools for attaining the bigger goal of savoring our lives.
Here are a few of the basic concepts or tenets of Slow Gardening:
Take it easy. Slow doesn't necessarily mean simple or lazy. In fact, it can actually involve more work, just spread out over time in a leisurely fashion.  It's a one-foot-in-front-of-the-other approach similar to preparing regular, interesting meals at home.
There is no need to get hung up about the rules of garden design and step-by-step instructions in gardening how-to books. You can be cussedly independent, contemplative, unhurried, and unworried. Be in it for the fun, and take your time about it.
Don't be paralyzed by what you're not doing right, or by what you think you ought to do. Slow Gardening does not discriminate based on materials, personal style, or level or interest or expertise.
Along these lines, Slow Gardening is less about style, and more a way of being in tune with whatever rings your bell. Slow Gardeners might be hard-core green gardeners with a penchant for native plants and sustainable methods, or sharply focused lawn fanatics, daylily collectors, or people who just love to grow tomatoes. They're not trying to get anywhere, since they have already reached their destination. If it thrills you and you're doing it, that's Slow Gardening.
Felder Rushing is a tenth-generation American gardener, raised into his teen years under the apprenticeship of a horticulturist great-grandmother who grew flowers, vegetables, herbs, and fruits without a hose or pesticides, and a garden club grandmother who garnered hundreds of blue ribbons for her plant breeding and displays.
Slow Gardening: A No-Stress Philosophy for all Senses and Seasons By Felder Rushing
Chelsea Green Publishing
Copyright 2011 Softcover, 220 pages, $29.95
---
The Texas Tomato Lover's Handbook
by William D. Adams
A garden-grown tomato sliced and laid across a grilled hamburger …
Sweet, plump cherry tomatoes in a crisp, green salad …
Sauce made from fresh tomatoes, ladled over a steaming bowl of pasta …
Spicy tomato salsa …
Savory tomato soup …
Mmm, can't you just taste those luscious tomatoes?
Is there any single vegetable as mouth-watering as the tomato? And yet, as thousands of people tired of mushy, half-green, and tasteless tomatoes bought from supermarkets have discovered, much more is involved in growing your own than simply putting a plant or two in the ground and expecting to harvest juicy, red tomatoes a few weeks later – especially in Texas!
Bill Adams, former Harris County Extension Agent draws on more than thirty years' experience to provide a complete, step-by-step guide to success in the tomato patch. Growing good tomatoes requires a gardener's attention to a variety of factors. Bill Adams begins this book by explaining the basics of soil preparation, planting, feeding, caging and watering. He also outlines the pros and cons of standard, hybrid, heirloom and cherry varieties, sharing tips about old favorites and suggesting new varieties. After the tomatoes are chosen, planted and thriving under his tutelage, Bill prepares gardeners for the insects, diseases, and other visitors they are likely to encounter, warning that "gardeners are not the only ones that love tomatoes." He ends by offering a few words about the "tomato kin folk," peppers, eggplants, tomatillos, and potatoes, along with a source list of selected suppliers.
Some tips from Bill Adams:
• Bird damage shows up on tomatoes as deep holes pecked into the fruit. After trying to peck a baseball painted red, most birds give up.
• Tomato seedlings need to be close to the fluorescent lights – six to twelve inches will ensure that they develop dark green and stocky.
• Cottonseed meal is a relatively cheap organic fertilizer that is available from most feed stores.  Placing or banding fertilizer under the row is one way to concentrate the nutrients close to the tomato plants.
• Tomato plants grown in 5-gallon containers are great for getting an early start in the garden, but the containers are not large enough for production. A 20- to 30-gallon container results in a more extensive root system that can better supply water and nutrients to the developing fruit.
• Lay down a tall transplant to encourage roots to develop along the stem.
• Tomato transplants can be protected from cutworm damage with a cardboard or aluminum foil collar around the stem.
Liberally sprinkled with the author's easy humor and illustrated throughout with excellent photographs, The Texas Tomato Lover's Handbook has everything you'll need to assure a bumper crop, year after year.
William D. Adams  is a retired Harris County extension agent with thirty years' experience at the Texas AgriLife Extension Service. His writing and photography have appeared regularly in Gardens & More, Horticulture, Texas Gardener, Family Circle, Mother Earth News, Suns
et, and other publications. He grows tomatoes at his home in Burton, Texas. Bill contributed the photos for this book with his wife Deborah.
The Texas Tomato Lover's Handbook
By William D. Adams
Texas A&M University Press
Copyright 2011
Flexbound, 189 pages, $25.00
---
A Book Review
Home Outside: Creating the Landscape You Love
by Julie Moir Messervy is a new book published by The Taunton Press.
"Home is where the heart is. It's our sanctuary in a stressful world, the place we long to return to when we've been away. But home is more than just the four walls of our house; it encompasses the land around the house as well. When we turn down our street and pull into our driveway, we're home," so starts Julie Moir Messervy in her newest book, Home Outside. She continues, "Yet most of us feel less confident about creating outdoor living spaces than we do about our interiors. Inside, we happily paint walls, choose finishes, and buy rugs, furniture, and fixtures, but when we step outside we're unsure of how to begin. That's where this book comes in. Home Outside
is not just another garden- or landscape-design book. It's a step-by-step approach that lets you see your property through the eyes of a designer (that would be me)."
Julie Moir Messervy challenges readers to discover what kind of designer they are by taking a fun designer's personality test to better understand what aesthetic garden style best fits. The score based on the answers to a series of questions will reveal which of the following designer styles best fits, reserved or expressive, practical or conceptual, principled or personal, orderly or relaxed.
Home Outside is systematic progression through a six step design process to help homeowners turn their yards into a truly functional and visually appealing landscape. Julie Moir Messervy divides the process into
Lay of the land
– where the site is thoroughly examined for soil, sun, wind, circulation, vegetation and views.
Big moves
–where one of four basic layouts is used to organize the space around the house, as well, an aesthetic arrangement is chosen and a theme or style identified.
Comfort Zones
-where the surrounding, welcoming, neighboring and living zones are identified.
Making it Flow
-where movement around and through the landscape is studied according to whether people will be moving, pausing or stopping.
Placing the Pieces
-where focal points and frames are placed in the landscape to create a harmonious picture.
Sensory Pleasures
-where the details that bring the landscape to life such as beauty and harmony are added using the natural elements of earth (plants), water, fire (lighting) and air.
Even if your garden is not ready to get a major renovation or a new landscape plan created, Home Outside is loaded with ideas on how to improve even a small portion of a larger landscape scheme. Perhaps a new retaining wall, side garden bed, or small patio is all that is needed right now, Home Outside
can provide the inspiration to create a unique, usable and personal space.
Homeowners with all types of budgets from working on a shoestring to "what budget?" Can benefit from the design steps in
Home Outside. Many simple "plan view" sketches have been include to illustrate the points made in the text. For example, three different driveways are shown for the same house, a good pedestrian flow and bad flow examples and a symmetrical framing of focal points and asymmetrical one.
Throughout Home Outside
, Julie Moir Messervy transforms the design process into very manageable and easy to comprehend topics so that homeowners can really create a landscape that is their own "home outside," — one that can be truly used, enjoyed, and provides a real outdoor connection.
Home Outside: Creating the Landscape You Love by Julie Moir Messervy
Hardcover, 240 pages, $30.00 The Taunton Press, ISBN: 978-1-60085-008
The cover image was used with permission by The Taunton Press. The Island image appears on page 47 of Home Outside. Photo courtesy of Myke Hodgins, Hodgins & Associates Landscape Architects
.
---
A Book Review
Container Gardening: 250 Design Ideas & Step-By-Step Techniques
from the Editors and Contributors of Fine Gardening.
Container Gardening
is Thanksgiving dinner with all the trimmings and pumpkin pie for desert. The book is loaded with luscious color photos that are good enough to eat. In full color and growing in glorious containers are everything from big and beautiful red banana, fabulous foliage Persian shield, sophisticated silver sage, eye catching Dragon Wing begonia, spectacular succulent echeveria, packing a punch Mandevilla, summer radiance 'Cherries Jubilee' Allamanda, incredible edible 'Bull's Blood' beets to bring on the drama – Rex begonia.
Container Gardening
is filled with imaginative and creative ideas to grow new plant combinations and to accessorize with plants and containers in new ways. For example, not many gardeners would have thought to use a sweet potato from the grocery store billowing out of a large container with white Million Bells Calibrachoa (annual), Artemisia 'Powis Castle' (perennial), lemon grass (herb) and Purple Wave petunia (annual), but the combination of textures, shapes and forms is quite attractive.
The book is full of creative ideas portrayed through pictures. One at the beginning that I like is a wrought Iron table with large openings in a grid pattern on the top. The openings are the perfect size for the 4" terra cotta pots shown slid through part way. A series of succulents are placed around the edge of the table with larger gallon pots in the center. Smaller pots are placed under the mesh table on patio blocks. Some patio slabs have been removed and squares of attractive plants growing up from below.
Beside the elegant and formal container displays are a few fun examples of funky pots and funky painted Adirondack chairs for the whimsical at heart (like me!). And for those that need help to stage containers, there are photos that show how easy it is to create an attractive display using overturning pots to build up a pedestal to the desired height.
Container Gardening is more than just a book of inspiring pictures – it is informative too. Many of the plants are listed with their hardiness zone or category labels: annual, perennial, herb, etc. The Materials & Techniques section is a particularly good part of the book for do it yourself information.
A step-by-step propagation section shows how to take tip cuttings and which plants are the best to root.
Lee Reich contributed a chapter on making a good potting soil. He suggests mixing your own soil, which he says he has found produces better results than commercial mixes. He includes a homemade potting soil recipe which uses 2 gallons each of peat moss, perlite, compost and garden soil. Included with this he adds ½ cup each of dolomitic limestone, soybean meal, greensand, rock phosphate and kelp powder.
Do-it-yourselfers will appreciate the Drip Irrigation 101 chapter with details on setting up a watering system. Also informative is the build your own lined hanging basket and hypertufa container.
The photos are nicely done with good close up details. Including real world situations portrayed by insect eaten leaves. Many nice, lush and full packed pictures of containers fill the pages – some a bit too full, reminding me of how a garden would look after being prepared for an open garden day – warning, selective pruning will be required for some containers in about two weeks to keep the plants in bounds. In any event, the Fabulous Foliage chapter is fabulous.
Throughout the book are numerous design and staging suggestions such as to break up wall space with containers or soften hard edges and corners with containers.
One of the best design tips in the book is to think of the plants going into your containers as being in one of three categories. The "Thrillers" are the plants that make a bold and exciting centerpiece – like New Zealand flax. The "Spillers" are the plants that tumble from the container – like sweet potato vine, and the "Fillers" are the plants that fill up the pot. This last group includes lantana, pentas or wax begonia. Think of using the three basic types of plants, thrillers, spillers and fillers in your next container design.
Container Gardening is full of good solid information about successfully creating more above ground growing areas. But there are a couple of areas where I wanted the writers to tell or show me more. While many container plant arrangements were identified with a drawn key, there were still some that were not fully identified and this was a bit frustrating. Also, I wanted to read more than just 4 pages about using perennials in containers as I feel that they are underused and could really add a lot to any garden. An expanded chapter on edible plants in containers would also be justified as interest in food growing is on the increase at present. There are plenty more vegetable plants that are excellent for containers that could have been shown. Well maybe Taunton Press has plans for a follow up book to cover these areas.
Container Gardening: 250 Design Ideas & Step-By-Step Techniques from the Editors and Contributors of Fine Gardening is available in paperback, 240 pages $19.95 ISBN-13: 978-1-60085-080-6
Cover image used with permission of The Taunton Press.
---
Doug Welsh's Texas Garden Almanac
is a giant monthly calendar (in book form) full of helpful tips about what to do in the garden based on the unique Texas environment. Very easy to use,
The Texas Garden Almanac is set up so that all you have to do is open the book to the appropriate month and Doug's excellent advice is laid out in an easy to understand strategy for gardeners of all expertise levels to use. It is written in an engaging conversational style and covers all the essential topics of growing trees, shrubs, vines, lawn, vegetables, herbs and fruit. Design themes are also included as well as key plant growing topics focusing on soil, mulch, water, dealing with pests and plant maintenance.
The Texas Garden Almanac tells how to create beautiful gardens and have fun doing it. At the end of every chapter is a Timely Tips section with important points relating to flowering plants, garden design, soil & mulch, watering, plant care, trees, shrubs & vines, lawns, vegetables, fruits & herbs, houseplants and even a few points for butterflies, birds and squirrels.
Many diagrams have been added to illustrate key techniques, including many in the February chapter on pruning. Texas maps for the first and last average freeze dates, chilling hours, hardiness zones, and rainfall are very beneficial as an "at-a-glance" reference.
Many other handy charts and lists are included in The Texas Garden Almanac such as Bermudagrass cultivar comparisons (April chapter), deer-resistant plant lists (July chapter), when to plant fall vegetables (July chapter), and top trees for Central Texas recommended by Skip Richter (August chapter).
The book also contains design ideas on form, color and tips for the do-it-yourself landscaper in the September and October chapters.
Doug doesn't balk at having a little fun while offering his sage advice. He lists the top 10 mistakes of Texas gardeners in the November chapter and has the top 10 New Year's Resolutions for gardeners and yardeners in the December chapter.
Even though most gardeners agree about the importance of soils for a successful garden, having a discussion about soil is most often not met with much enthusiasm. Soils 101, 201 and 301 in the January chapter do focus on the importance of good soil preparation, but Doug has written them in easy to understand terms with nothing harder to say or spell than alluvial (defined as river-deposited), sodic (salty) or microorganism. With a caution of "Don't monkey with the soil too much", Doug has again succeeded in making his soil lesson fun and educational.
One of the most unique pieces of advice that Doug gives is to encourage readers to think like a plant. In the January chapter he writes "Perhaps the greatest ability you can achieve in gardening is to think like a plant. If you can do so, then you can understand a plant's needs, anticipate and respond to them, and most important, avoid problems associated with not meeting the plant's needs." Doug goes on to say that he knows that plants don't actually think. But it is helpful for him to think like a plant- hopefully for readers too.
Doug Welsh's Texas Garden Almanac is $24.95 with 512 pages, 6 color maps, more than 170 color illustrations and 50 black & white drawings. It is published by Texas A&M University Press and is available online at www.tamu.edu/upress. The book is illustrated by Aletha St. Romain (it has a wonderful Old Blush China Rose illustration for the January chapter among many other wonderful illustrations).
Doug Welsh is a professor and extension horticulturist at Texas A&M University and statewide coordinator for the Texas Master Gardener Program. Doug also hosts a gardening call-in radio show called Garden Success! on KAMU-FM 90.9 Thursdays from noon to 1 pm and provides gardening tips on television each week on The Weekend Gardener shown Fridays on KBTX-TV.
---